REPUBLIC TROOPERS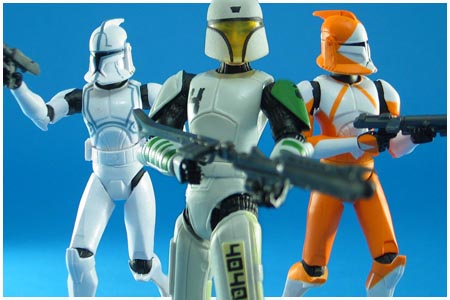 Movie Heroes Battle Pack
Clone troopers train for combat on the planet Kamino. Kamino is not only the place where the clone troopers are engineered; it is also where they are trained in battle tactics, fighting techniques and explosives. Seasoned clone troopers push the cadets hard to turn them into the toughest and most skilled soldiers in the galaxy.
There were three Battle Packs made available in the Movie Heroes collection's initial release in January 2012 including the Geonosis Arena Battle, Rebel Heroes, and Republic Troopers. This assortment debuted the all new Battle Pack blister card design that replaced the shadowbox designs from all previous Battle Pack releases.

Product Information
Year:
2012
Original Retail:
$21.99
Assortment Number:
37827/37822
UPC Number:
6 53569 69729 9
What's In The Box?
Hardcase Figure
Bomb Squad Trooper Figure
Cutup Figure
Cutup's Helmet
2x Clone Blasters
Clone Rifle
3x Tan Display Stands
3x Galactic Battle Game Cards
Game Die
About This Set
The Republic Troopers set offered Star Wars fans three new Clone Troopers using existing figures. The Cutup figure is a repaint of the 2010 Clone Wars Hevy figure, and both the Bomb Squad Trooper and the Hardcase figures use the 2010 Clone Wars Commander Stone figure as their base.
Photography by D. Martin Myatt