DARTH SIDIOUS & DARTH MAUL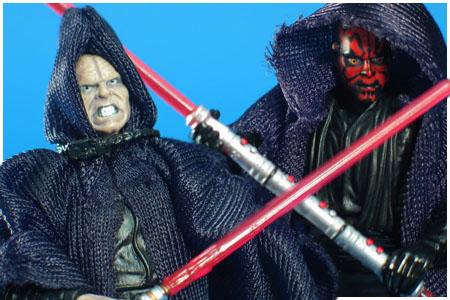 Emergence Of The Sith Two Pack
The Sith emerge from the shadows to begin their assault on the galaxy. The mysterious Darth Sidious sends his deadly apprentice, Darth Maul, to track down Queen Amidala and the Jedi who escaped from the clutches of the Trade Federation forces. The two Sith mark the beginning of the dark times that are coming for this once-peaceful galaxy.
Released early in 2012, the Emergence Of The Sith was released exclusively through Target along side The Rise of Darth Vader. Both two packs featured repackaged figures at a discounted retail price.

Product Information
Year:
2012
Original Retail:
$14.99
Assortment Number:
39619/39612
UPC Number:
6 53569 70593 2
What's In The Box?
Darth Sidious Figure
Sidious' Lightsaber
Sidious' Robe
Sidious' Sith Clasp
Darth Maul Figure
Maul's Robe
Maul's Lightsaber
About This Figure
The Emergence Of The Force pack offered Star Wars fans a repainted versions of the 2005 Evolutions' Darth Sidious and the 1999 Episode I Sith Speeder Darth Maul.
Text & Photography by D. Martin Myatt