DARTH VADER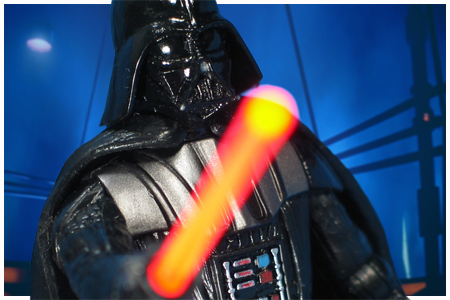 with Light Up Lightsaber
Technically the third wave in Hasbro's Movie Heroes collection, early shipments only included the Light-Up Darth Vader and Snowspeeder Luke Skywalker along with nine previously released figures (The Vader was two per case). Both of these figures began shipping in North America in mid-June 2012. Like all the figures released before this one, the package include a Galactic Battle Game Card, a Game Die, and one of four randomly packed tan Display Stand.

Product Information
Manufacturer:
Hasbro
Year:
2012
Original Retail:
$9.99
Placement Number:
MH20
Assortment Number:
37287/36563
UPC Number:
6 53569 71296 1
What's In The Box?
Darth Vader Figure
Cape
Lightsaber Blade
Tan Display Base
Galactic Battle Game Card
Game Die
About This Figure
This Darth Vader figure is an all-new figure.
The batteries that operate the light-up feature are incased within the figure and are not replaceable without breaking the toy, so fill your boots with Lightsaber fun while you can!.
Photography by D. Martin Myatt