TRADE FEDERATION MTT (MULTI TROOP TRANSPORT)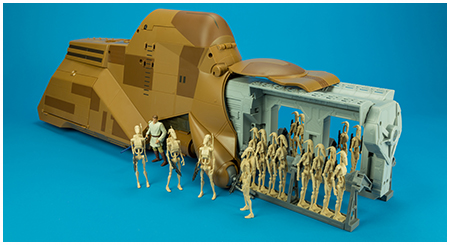 2012 Movie Heroes / The Clone Wars
Battle Droids deploy into combat form a Trade Federation Multi Troop Transport (MTT) vehicle. At the Battle of Naboo, MTTs delivered wave after wave of Battle Droids to face the Gungan Army.
First displayed in their showroom at the 2012 International Toy Fair, Hasbro's MTT (Multi Troop Transport) vehicle ended up being one of the coolest large vehicles they produced for the 3 3/4-inch action figure collection. This massive playset included many interactive play elements, electronic features including moving parts and sounds, and twenty-one packed action figures with weapon accessories! The MTT (Multi Troop Transport) was only released in the 2012 Movie Heroes / The Clone Wars and the chances of it being rereleased are extremely slim.

Product Information
Manufacturer:
Hasbro
Source:
Star Wars: The Phantom Menace
Year:
2012
Original Retail Price:
$129.99
SKU:
6 53569 77404 4
Item Number:
37905
What's In The Box?
MTT (Multi Troop Transport) Vehicle (11 pieces)
2x Projectiles
4x Battle Droid (free-standing)
16x Battle Droid (on fixed base)
20x Blaster
Obi-Wan Kenobi
Lightsaber
Sticker sheet
Instruction Sheet
Text & Photography by D. Martin Myatt
Page Built by Adam Lamping
comments powered by

Disqus