MOS ESPA ARENA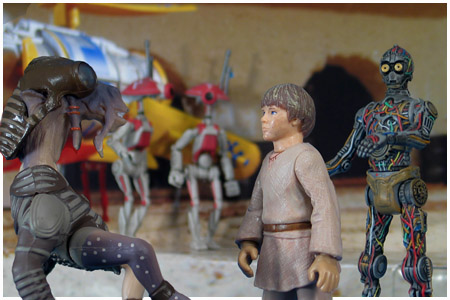 Discover The Force Battle Pack
In the first quarter of 2012, Walmart offered two exclusive Battle Packs including the Mos Espa Arena and the Royal Starship Droids. Both sets offered repainted figures from
Star Wars Episode I: The Phantom Menace
. The Mos Espa Arena set featured repainted repacks of the 1999 Episode I
C-3PO
, the 2000 Power Of The Force
Boonta Eve Challenge Sebulba
, the 2000 Power Of The Force
Mechanic Anakin Skywalker
, and the 1999 Episode I pack in
Pit Droids
along with a six-sided die, five Galactic Battle Game cards, and five randomly packed Black Display Stands.

Product Information
Manufacturer:
Hasbro
Year:
2012
Original Retail:
$24.96
Assortment Number:
38607/38606
UPC Number:
6 53569 70774 5
What's In The Box?
C-3PO Figure
Anakin Skywalker Figure
Anakin's Helmet
Anakin's Tool
Anakin's Flag
Sebulba Figure
Sebulba's Helmet
Sebulba's Sabotaged Piece Of Ani's Podracer
Sebulba's Flag
2x Pit Droid Figures
3D Glasses
5x Black Display Stands (randomly packed)
Black Six-Sided Die
5x Game Cards
Game Instructions
About These Figures
All five figures in this Battle Pack are repaints without additional retooling.
This Battle Pack features two exclusive Podracer flags not available anywhere else.
The Podracer helmet included with the Anakin figure was also packed in with the Movie Heroes Anakin Skywalker figure.
Text & Photography by D. Martin Myatt