SEE-THREEPIO (C-3PO)


Source:
(The Empire Strikes Back)

Year: 2004

Assortment: Vintage Figures

Retail: $9.99

Assortment Number: 85236/85213

UPC Number: 7693085236

Weapons and Accessories:
5 Points of Articulation
Protective Clamshell Case
Comments: Celebrate the legendary Star Wars trilogy that changed the universe forever, with The Original Trilogy Collection. This collection brings to life the incredible story of good versus evil that captured our imagination and took us to a galaxy far, far away. The finest recreations of the iconic Star Wars heroes and villains are back with incredible detail and premium features to commemorate each epic tale in the Original Trilogy: A New Hope, The Empire Strikes Back, and Return of the Jedi. And, as a tribute to the dedication of Star Wars fans everywhere, we are re-releasing elements of the original packaging that harken back to the creation of Star Wars action figures, which began over 25 years ago with the Original Trilogy. May the Force be with you!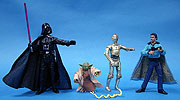 Points of Interest:
This new version of C-3PO may not look like much, but it's got it where it counts. With improved details than any other version, this figure looks good translating languages, taking an oil bath, and even falling off a cliff!
In honor of the Classic Trilogy release on DVD, this series of action figures includes reproductions of the vintage figures, including the same photos, graphics and even the Kenner logo. Compare this figure to the Vintage C-3PO figure.

Back To Vintage Figures