BARQUIN D'AN & DROOPY McCOOL


Source:
(Return of the Jedi: Special Edition)



Year: 1998
(Wal-Mart Exclusive)

Retail: $11.99

Assortment: Max Rebo Band Pairs

Assortment Number: 69670/84019

UPC Number: 7628184019

Packaging Variations:

.00 (Puppet Sy Snootles on back)
.01 (CGI Sy Snootles on back)


Weapons and Accessories:

Kloo Horn
Chidinkalu
Barquin D'an:
Height: 1.5 Meters
Status: Musician
Species: Bith
Affiliation: None
Instrument of Choice: Kloo Horn
Homeworld: Clak'dor VII

Droopy McCool:
Height: 1.4 Meters
Status: Musician
Species: Kitonak
Affiliation: None
Instrument of Choice: Chidinkalu
Homeworld: Kirdo III


Points of Interest:
Barquin D'an is the brother of the lead Cantina Band Member of The Modal Nodes.
Droopy McCool is just a stage name for the creature named Snit.
The heights of each character were changed: Barquin went from 1.5 Meters to 1.55 Meters, and Droopy went from 1.4 Meters to 1.5 Meters.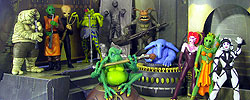 Back To Max Rebo Band Pairs