RONTO with JAWA


Source:
(A New Hope: Special Edition)



Year: 1997

Retail: $14.99

Assortment: Beast Packs

Assortment Number: 69645/69728

UPC Number: 7628169728

Packaging Variations:

None


Weapons and Accessories:

Blaster
Comments: This beast pack was released to commemorate the Special Edition releases of the Classic Trilogy. Moving the rear leg of the Ronto causes the head to move and knock the Jawa off the saddle.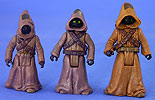 Point of Interest: The height of the Jawa figure included with this set is in between the carded figures.

Back To Creature Sets