FINAL JEDI DUEL
Emperor Palpatine | Darth Vader | Luke Skywalker


Source: (Return of the Jedi)



Year: 1997

Retail: $19.99

Assortment: Cinema Scenes

Assortment Number: 69650/69783

UPC Number: 7628169783

Packaging Variations:

.00 ™ after Duel
.01 ™ after Jedi


Weapons and Accessories:

2 Lightsabers
Emperor's Throne
Base
Cardboard Background
Comments: under the evil gaze of Emperor Palpatine, the lightsabers of two Jedi Knights - a father and son - clash furiously in a final duel between the light side and dark side of the Force. Slowly, the young Skywalker is lured closer to the rage of the dark side, and Palpatine sits confident of the Rebellion's defeat and the acquisition of a new emissary to fulfill his evil legacy! But the young Jedi's resistance appears to be growing...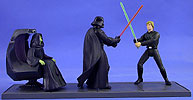 Point of Interest:
The head is the same as the Complete Galaxy Luke, the Tatooine Skiff Luke, and the Rancor Beast Pack Luke.

Back To Cinema Scenes