BEN (OBI-WAN) KENOBI


Source: (A New Hope)



Year: 1997

Retail: $9.99

Assortment:
Electronic Power F/X

Assortment Number: 69615/69643

UPC Number: 7628169643

Packaging Variations:

None


Weapons and Accessories:

Glowing Lightsaber
Death Star Archway
Base
Comments: Recreate movie scenes with remote-activated action!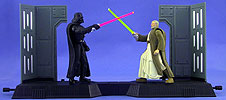 Points of Interest:
Despite showing a blue lightsaber on the package, the blade included in this set was green, due to the expense of a blue LED.
The background and base were designed to connect to Darth Vader's.

Back To Electronic F/X