HAN SOLO in Endor Gear


Source: (Return of the Jedi)



Year: 1997

Collection: 1

Retail: $4.99

Assortment: Basic Figures

Assortment Number: 69570/69621

UPC Number: 7628169621

Packaging Variations:

.00 Green Collection 1 (Blue Pants)
.00 Green Collection 1 (holo) (Blue Pants)
.01 Green Collection 1 (Brown Pants)
.01 Freeze Frame Collection 1 (Saelt Marie)
.02 Freeze Frame Collection 1 (Sealt Marae)


Weapons and Accessories:

Blaster Pistol
Plastic Trench Coat
Freeze Frame (.01 and .02)
Height: 1.83 meters
Status: Smuggler, Pirate, Rebel Pilot
Classification: Human
Affiliation: Rebel Alliance
Weapon of Choice: Blaster Pistol


Comments: Han Solo commanded a strike force of freedom fighters whose mission it was to sabotage the Imperial shield generator protecting the new Death Star. However, a surprise visit from some of Endor's native Ewoks appears to present an uncalculated setback.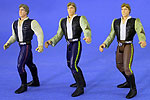 Points of Interest:
The chest of this figure is the same as the one from the original Han Solo figure.
When originally released, Han Solo in Endor Gear wore blue pants with a yellow stripe. This was soon corrected when the pants were changed to brown.











Click here for details on the European card variations.

Back To Basic Figures