LANDO CALRISSIAN


Source:
(The Empire Strikes Back)



Year: 1995

Collection: 1

Retail: $4.99

Assortment: Basic Figures

Assortment Number: 69570/69583

UPC Number: 7628169583

Packaging Variations:

.00 Red
.01 Green Collection 1


Weapons and Accessories:

Heavy Rifle
Blaster Pistol
Height: 1.77 meters
Status: Cloud City Administrator
Classification: Human
Affiliation: Rebel Alliance
Weapon of Choice: Holdout Blaster Pistol


Comments: Lando Calrissian has been called many things over the years; con artist, smuggler, and rogue. He never expected to be called a leader and war hero...but then, he never dreamed that the Empire would force him to betray his best friend.

Point of Interest: Lando Calrissian was only available on a green card in a The Empire Strikes Back Collector Pack from Sam's Club.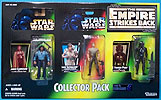 Click here for details on the European card variations.

Back To Basic Figures