ARC-170 FIGHTER
(Firing Blaster Cannons!)


Source:
(Revenge of the Sith)

Year: 2005

Assortment: Gunship Vehicles

Retail: $29.99

Assortment Number: 85457/85414

UPC Number: 5356902415

Weapons and Accessories:
Swing-Down Handle
Firing Cannons
Dropping Proton Torpedos
Socket can fit a Droid figure
Opening Wings
2 Missiles
2 Bombs
Extra labels that can be applied anywhere
Comments: The ARC-170 (Aggressive ReConnaissance) fighter blasts into battle! Clone troopers are specially trained to serve aboard these attack and recon vessels. The ARC-170 carries a crew of three and has an astromech droid to handle in-flight operations. The well-armed fighter lives up to its name as an aggressive vehicle against Separatist forces.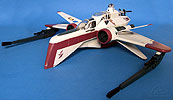 Points of Interest:
Launch your clone fighter pilots into battle with this awesome ship that's loaded with action features!
Swing down the handle for easy maneuverability: you can "pilot" the craft through space!
Fire the wing cannons' real working projectiles or drop proton torpedoes on the enemy!
Adjust the wings as you prepare for battle… you can even insert an R2 unit (sold separately) into the droid slot!
It's action suited only for the dramatic conclusion of the Star Wars saga!
Photography by Dan Curto

Back To Vehicles