AT-DP (ALL TERRAIN DEFENSE POD)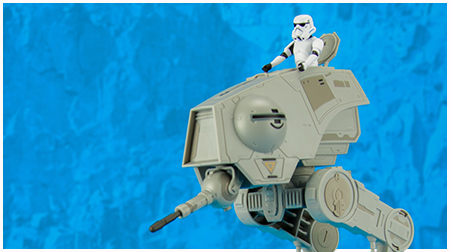 Rebels Saga Legends
AT-DP (All Terrain Defense Pods) are ground attack walkers deployed by the Galactic Empire to quell any resistance to the Empire.
The AT-DP (All Terrain Defense Pod) vehicle was released as part of the first wave of vehicles in Hasbro's Star Wars: Rebels collection. It, along with the Inquisitor's TIE Advanced Prototype and the Phantom Attack Shuttle were first officially revealed in Hasbro's showroom at the 2014 International Toy Fair and began hitting retail shelves the following October.

Product Information
Manufacturer:
Hasbro
Year:
2014
Original Retail:
$24.99
Assortment Number:
A8816/A2174
UPC Number:
6 53569 99046 8
What's In The Box?
AT-DP (All-Terrain Defense Pod) Vehicle (9 pieces)
Head
Right Leg
Left Leg
2x Joint Plugs
Projectile
Canopy
Canopy Hood
Launcher
Sticker Sheet
Instructions
About This Vehicle:
This is the debut release of this vehicle.
The AT-DP (All Terrain Defense Pod) uncomfortably fits most 5POA action figures. One sitting, one standing with the Canopy up.
Text & Photography by D. Martin Myatt
Page built by Adam Lamping
comments powered by

Disqus