THE PHANTOM ATTACK SHUTTLE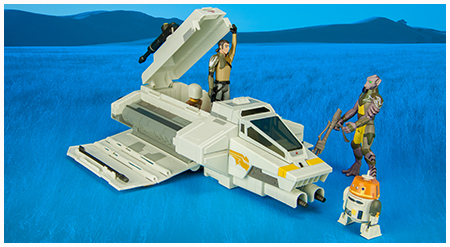 Rebels Saga Legends
The Phantom Attack Shuttle is used by the Rebels for short-range missions. Twin laser cannons provide defensive firepower in case of attack.
The Phantom Attack Shuttle vehicle was released as part of the first wave of vehicles in Hasbro's Star Wars: Rebels collection. It, along with the Inquisitor's TIE Advanced Prototype and the AT-DP were first officially revealed in Hasbro's showroom at the 2014 International Toy Fair and began hitting retail shelves the following October.

Product Information
Manufacturer:
Hasbro
Year:
2014
Original Retail:
$24.99
Assortment Number:
A8818/A2174
UPC Number:
6 53569 99048 2
What's In The Box?
The Phantom Attack Shuttle Vehicle (6 pieces)
Projectile
Sticker Sheet
Instructions
About This Vehicle:
This is the debut release of this vehicle.
To anyone that has watched the Star Wars: Rebels animated series, it is obvious that this vehicle is easily half the size of the show's often-used shuttle, but the playability is still there with this product. The 2014 Phantom Attack Shuttle is one of the closet extensions we've seen, to date, to the classic Kenner collection that built the Star Wars collecting community with its extensive toys released from 1978-1985.
Text & Photography by D. Martin Myatt
Page built by Adam Lamping
comments powered by

Disqus