ROSE (FIRST ORDER DISGUISE, BB-8, & BB-9E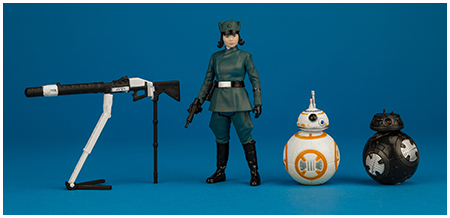 Star Wars Universe ForceLink 2.0 Action Figure Set
Rose, Finn, and BB-8 infiltrate Supreme Leader Snokeís massive flagship with the help of the scoundrel codebreaker DJ with the intent to deactivate the First Orderís hyperspace tracking flux capacitor; and they would have got away with it if not for that meddling BB-9E.
The repacked Rose (First Order Disguise), BB-8, & BB-9E featured on this page was released as part of the first assortment of two packs in Hasbro's Solo - Star Wars Universe collection. The assortment also included two debut sets: Kessel Guard & Lando Calrissian Darth Maul & Qui-Gon Jinn. This assortment had a street release set for April 13, 2018 as part of the Solo: A Star Wars Story product roll out, however many retailers disregarded the warnings on the shipping boxes and released their inventory as early as a month before slated release.
This version of the set, now equipped with ForceLink 2.0 chips, look identical to the original release, but can quickly be identified by the Green ForceLink logo which replaces the older releaseís blue logo.

Product Information
Manufacturer:
Hasbro
Source:
The Last Jedi
Year:
2018
Original Retail Price:
$14.99
Assortment Number:
E1687/E0324
SKU:
6 30509 62222 1
What's In The Box?
Rose (First Order Disguise) Action Figure
SE-44C Blaster Pistol
BB-8 Action Figure
BB-9E Action Figure
Heavy Blaster Rifle (4 pieces)
ForceLink 2.0 Instructions
Photography & Text by D. Martin Myatt
comments powered by

Disqus