ROYAL STARSHIP DROIDS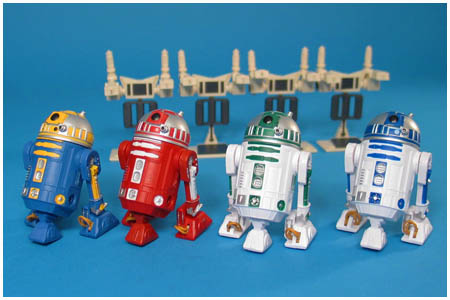 Discover The Force Battle Pack
Collectors love astromech droids, and this has been borne out by the success of Entertainment Earth's astromech droid pack series from
The Saga Collection
in 2006, which delivered ten droids spread across two sets, 2008's
The Legacy Collection
which included the build-a-droid bonus feature, and countless further pack-ins in the years that followed. Announced at New York Comic-Con 2011, only two months prior to its scheduled release date of 30th January 2012, the Royal Starship Droids' set of four astromechs from the Walmart exclusive
Discover the Force
sub-line proved difficult to find, being particularly scarce in Walmart's brick-and-mortar stores and frequently out-of-stock online.
Despite there being a fond affection for astromechs amongst collectors, the build-a-droid molds are not to everyone's liking. That being said, the Royal Starship Droids' set ought to be considered an essential purchase, providing you can get your hands on it, and if you can live with the holes on either side of each droids' body, then you will be rewarded with what is regarded as the definitive sculpt, and a uniform appearance to R2-D2, R2-B1, R2-R9 and R2-N3, the latter seeing its first ever release.

Product Information
Manufacturer:
Hasbro
Year:
2012
Original Retail:
$24.96
Assortment Number:
38608/38606
UPC Number:
6 53569 70776 9
What's In The Box?
R2-D2 Figure
R2-B1 Figure
R2-R9 Figure
R2-R9 Figure
4x Power Harnesses
3D Glasses
4x Black Display Stands (randomly packed)
Black Six-Sided Die
4x Game Cards
Game Instructions
About This Figure
All four droids in this Battle Pack are repaints made up of the standard R2 Unit Build A Droid pieces.
Text by Adam Lamping
Photography by D. Martin Myatt