REVENGE OF THE JEDI DEATH STAR
2011 SDCC Exclusive Action Figure Boxed Set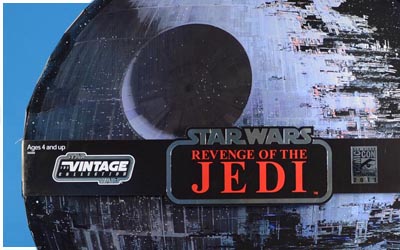 Comments:
"I am a Jedi, like my father before me."
Return of the Jedi
was a powerful conclusion to this epic saga of good versus evil. The whole world knows this film by its current title, which evokes the glorious return of the hero. But during filming, the movie was slated to be called "Revenge of the Jedi". Merchandise was developed based on this title, including Kenner action figure packaging. Then, late in production, there was a dramatic change. Shortly before the film was released, George Lucas decided the title should be
Return of the Jedi
. The final title carries a more appropriate emotional tone because, of course, a Jedi would not seek revenge.
To celebrate this monumental film and the unique history of its title, we have created special packages of favorite characters from the movie, featuring the
Revenge of the Jedi
title. May the Force be with you!

When it was announced at Toy Fair back in February 2011, it created quite a stir, and once it became available as an exclusive at the 2011 San Diego Comic-Con it sold out in record time.
The set celebrates the original title of the 1983
Star Wars
film, which was so close to being the final title that there are posters, printed ads, and even action figure proof cards sporting the
Revenge Of The Jedi
logo. The twelve full-sized 3¾" figures included in the set will all be available at retail as easy-to-find chase variations of the standard
Return Of The Jedi
figures. The two small figures, the Salacious Crumb and the Mouse Droid, however are exclusive repacks for this set. That said, it is unclear whether the retail version will share the 11181 date stamp the boxed set figures all share.
Since the set was released on July 20th, it actually featured the single card debut of the B-Wing Pilot (Keyan Farlander), as well as the figure debut for the kit-bashed Rebel Commando (with its alternate head and neck paint alteration) and the first look at the slightly tweaked Han Solo (in Trench Coat) figure.
Source:
Return of the Jedi
Year:
2011
(San Diego Comic-Con Exclsuive)
Assortment:
Exclusive Multipacks
Retail:
$129.99
UPC Number:
6 53569 66025 5
Figures Included:
• Luke Skywalker (Endor Capture)
• Darth Vader
• Princess Leia (Slave Outfit)
• B-Wing Pilot (Keyan Farlander)
• Stormtrooper
• R2-D2
• Han Solo (in Trench Coat)
• Boba Fett
• Admiral Ackbar
• Wicket
• TIE Fighter Pilot
• Rebel Commando
• Salacious Crumb –Exclusive to Set
• Mouse Droid –Exclusive to Set
Points of Interest:
• Photography by Philip Wise & D. Martin Myatt
• Text by D. Martin Myatt

Back To Exclusives