AGENT KALLUS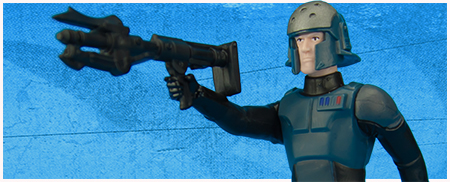 Rebels Saga Legends
Agent Kallus is a member of the Imperial Security Bureau, a secret police force that hunts down and crushes any rebellion in the galaxy.
Revealed in their showroom at the 2014 International Toy Fair, the first wave of figures in Hasbro's Rebels Saga Legends collection comprised of twelve figures. The first six, including SL01 Stormtrooper, SL02 Ezra Bridger, SL03 The Inquisitor, SL04 Kanan Jarrus, SL05 Agent Kallus pictured here, and SL06 C1-10P (Chopper), are debut figures based on the characters in the first season of Disney's Star Wars: Rebels television program. The other six figures, including SL07 Jango Fett, SL08 Clone Trooper, SL09 Darth Vader, SL10 Luke Skywalker, SL11 Obi-Wan Kenobi, and SL12 Snowtrooper, were all repacks and repaints. This assortment began hitting shelves in October, 2014.

Product Information
Manufacturer:
Hasbro
Year:
2014
Original Retail:
$5.99
Assortment Number:
SL05
UPC Number:
6 53569 98816 8
What's In The Box?
Agent Kallus Figure
AB-75 bo-rifle
About This Figure:
This is the debut release of this action figure.
Text & Photography by D. Martin Myatt
Page built by Adam Lamping
comments powered by

Disqus