CAPTAIN REX [CC-7567]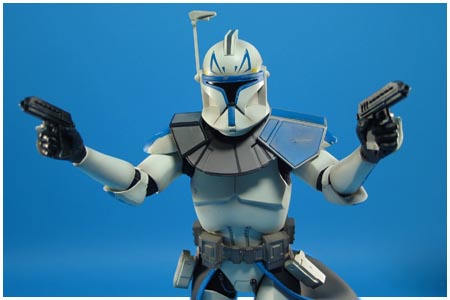 1/6 Scale Militaries Of Star Wars Figure
Sideshow Collectibles' Captain Rex [CC-7567] -501st Legion: Torrent Company 1/6 scale figure was announced on April 29th, 2010. The pre-order went live on May 7th, 2010, and the figure began shipping January 2010.

Product Information
Year:
2010
Original Retail:
$124.99
Exclusive Product Number:
21871
Exclusive Edition Size:
750
Regular Product Number:
2187
Regular Edition Size:
3,000
UPC Number:
7 47720 21397 5
What's In The Box?
Fully Armoured Clone Trooper Body
Switch Out Rex Head
Switch Out Helmeted Head
7x Left Hands
6x Right Hands
Standard Clone Blaster
Standard Clone Blaster Rifle
2x Small Blasters
Jet Pack
Shoulder Armour
Standard Clone Armour
Belt w/ 2x Holsters
Kama
Black Display Stand (3 pieces)
Exclusive Edition Accessory
White Display Stand (3 pieces)
Whatchu Gotta Know:
Fully Armoured Clone Trooper Body
The exclusive version of Captain Rex comes with a unique white 501st Legiondisplay stand. The regular edition comes with a standard Black Star Wars display stand
This figure is the second created by Sideshow Collectibles based on designs from The Clone Wars television program.
Photography & Text by D. Martin Myatt