41st ELITE CORPS CLONE TROOPER -CORUSCANT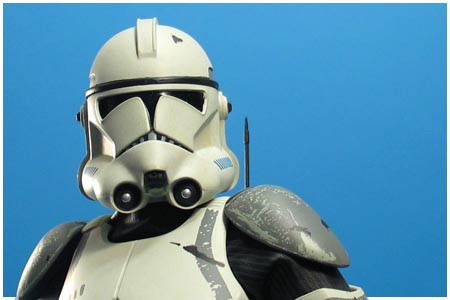 1/6 Scale Militaries Of Star Wars Figure
Sideshow Collectibles' 1/6 scale 41st Elite Corps: Coruscant Clone Trooper figure was officially announced on December 11th, 2009. It went up for pre-order one week later on December 17th. The Figure began shipping in the fourth quarter of 2010.

Product Information
Year:
2010
Original Retail:
$89.99
Exclusive Product Number:
21611
Exclusive Edition Size:
650
Regular Product Number:
2161
Regular Edition Size:
2,500
UPC Number:
7 47720 21057 8
What's In The Box?
Fully Armoured Clone Trooper Body
2x Sets of Hands
Carbine Blaster
Long Rifle
Black Display Stand (3 pieces)
Exclusive Accessory
White 41st Display Stand (3 pieces)
Whatchu Gotta Know:
The exclusive version of this figure came packed with a white display stand unique to the 41st Elite Corps Clone Trooper. The regular version is packed with a standard black Star Wars logoed stand.
Photography & Text by D. Martin Myatt