ANAKIN VS ASAJJ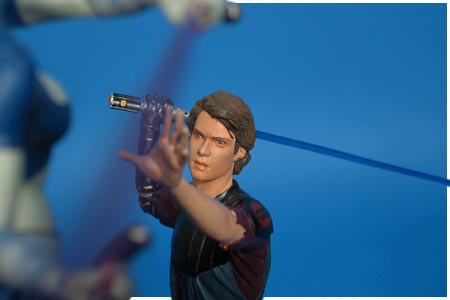 Clone Wars Diorama
Sideshow Collectibles' Anakin Vs. Asajj diorama was announced on April 16th, 2009. It went up for pre-order on April 23rd, 2009 and began shipping the following December.

Product Information
Year:
2009
Original Retail:
$299.99
Exclusive Product Number:
22231
Exclusive Edition Size:
275
Regular Product Number:
2223
Regular Edition Size:
350
Whatís In The Box?
Stair Base
Anakin
Assajj
Blue Lightsaber Blade
2x Red Lightsaber Blade s
Assaj Head (closed mouth)
Exclusive Accessory
Assaj Head (grimace) -Not Shown
Whatchu Gotta Know:
In addition to the regular and exclusive versions, Sideshow Collectibles also produced a faux bronze version of this statue with a limited production run of only 35. It was offered at $319.99 and didnít last for very long.
Photography & Text by D. Martin Myatt