INFANTRY BATTLE DROIDS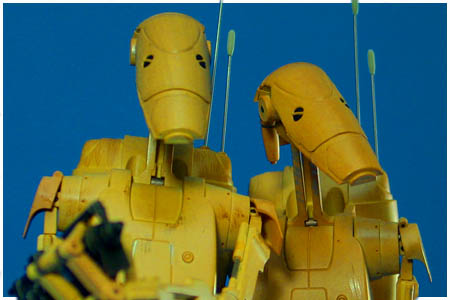 Militaries Of Star Wars 1/6 Scale Figure Two Pack
Sideshow Collectibles first alluded to the production of 1/6 scale Battle Droids in one of the answers in their Q&A on April 12, 2011. They announced the Infantry Battle Droids two pack a few months later on July 12. The set was put up for pre-order right then. This set started shipping in January, 2012.

Product Information
Year:
2012
Original Retail:
$119.99
Exclusive Item Number:
1000241
Regular Item Number:
100024
Exclusive Edition Size:
500
Regular Edition Size:
5, 000
What's In The Box?
2x Uniquely Painted Battle Droids
2x Blasters
2x Standard Backpacks
1138 Backpack (Exclusive Edition Only)
Photography & Text by D. Martin Myatt