COMMANDER BLY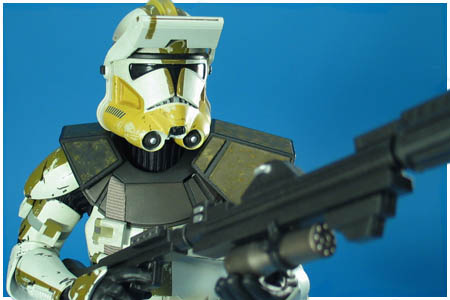 Militaries Of Star Wars 1/6 Scale Figure

Clone commander 5052, also known as Bly, was the leader of the Star Corps of clone troopers assigned to Jedi General Aayla Secura. He served with her on the exotic world of Felucia when he received Order 66. The executive command, originating from the Supreme Chancellor on Coruscant, identified Secura as a traitorous enemy of the state. Demonstrating his unerring loyalty to the Republic, Bly and his troopers raised their rifles and opened fire on their commanding officer, coldly killing the unsuspecting Jedi.

Bly was one of the first generation of clone commanders to be trained by the ARC trooper Alpha. The ARC troopers were a specially bred type of clone, more independent and with less docility tampering than the standard trooper of the line. Alpha's training program emphasized independence and outside-the-manual thinking.

Sideshow's Commander Bly figure was announced on March 24th, 2011. It went up for pre-order on March 31st, and the figure began shipping in September, 2011. The exclusive version, like most of the Clone Troopers before it, came with a white display stand depicting its corps group number. In Bly's case it is the 327th Star Corps.







































Year: 2011
Original Retail: $124.99
Exclusive Item Number: 21861
Regular Item Number: 21861
Exclusive Edition Size: 500
Regular Edition Size: TBA

What's In The Box?
- Customized ARC Clone Armour (mostly not removable)
- 2x Sets of Feet
- 6x Left Hands
- 7x Right Hands
- Phase 1 ARC Helmet
- Phase 2 ARC Helmet
- Bly Head
- Dickie
- Long Clone Rifle
- Standard Clone Blaster
- 2x Short Blasters
- 327th Star Corps Display Stand (Exclusive only)
- Star Wars Display Stand (Regular only)


Photography & Text by D. Martin Myatt