COMMANDER CODY [CC-2224]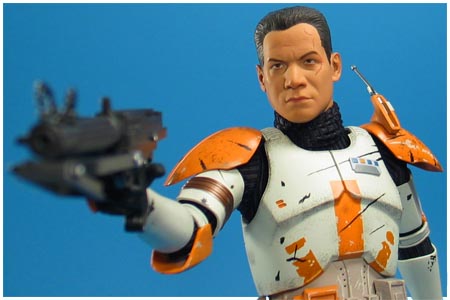 Militaries Of Star Wars: 212th Attack Battalion 1/6 Scale Figure

Clone Commander Cody, also known as unit 2224, was a loyal clone trooper serving the Galactic Republic during the Clone Wars. Cody was often under the command of General Obi-Wan Kenobi, and served with him and Anakin Skywalker during a nearly disastrous campaign on Cato Neimoidia.

Commander Cody was part of an advanced training program of clone commanders led by the ARC trooper identified as Alpha. Unlike standard Kaminoan educational protocols, this training regimen did not de-emphasize individuality and outside-the-manual thinking. Cody's tour of duty included campaigns on Rendili, Koorivar, Cato Neimoidia, Maramere and Boz Pity. He led the 212th Attack Battalion and was comfortable both leading large units and commanding small attack teams. Often, Cody would employ a rocket pack, leading his elite units through individual aerial maneuvers.

Sideshow's Commander Cody 1/6 scale figure was announced on August 13, 2010 and went up for pre-order six days later. The figure began shipping in May 2011.




















































Year: 2011
Retail: $124.99
Exclusive Item Number: 21741
Regular Item Number: 2174
Exclusive Edition Size: 1,000
Regular Edition Size: 5,000

Accessories:
- Cody Head
- Clone Wars Helmet
- Revenge Of The Sith Helmet w/ 2x clip on accessories
- Long Rifle
- Clone Blaster
- 2x Blasters
- 7x Sets Of Hands
- Magnetic Backpack
- Darth Sidious Hologram
- 2x Sets Of Feet
- Display Stand

Exclusive Accesory:
White Commander Cody Display Stand

Photography & Text by D. Martin Myatt