SANDTROOPER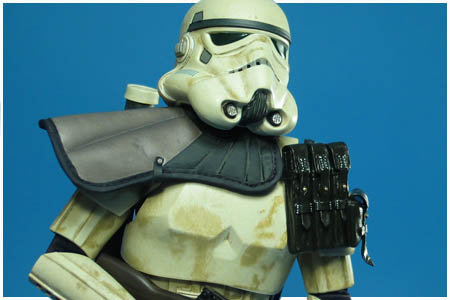 Desert Sands Detachment 1/6 Scale Deluxe Figure

The Empire encompassed thousands of worlds, with countless climate and terrain challenges. Their stormtrooper ranks reflected this through specialized units trained and equipped to operate in specific environments.

The sandtrooper is a desert terrain stormtrooper. Sandtroopers are largely identical to standard stormtroopers except they have additional training in specialized areas. Their armor consists of an 18-piece anti-blaster cocoon shell with heat-reflective coating worn over a temperature-control body glove. The sandtrooper helmet features automatic polarized lenses, a built-in comlink and breathing filters. These stormtroopers are specifically designed for high temperature environments. Instead of depending on machinery that may not function in hostile environments, sandtroopers make use of local creatures for transportation.

The stormtrooper detachment dispatched by Lord Darth Vader to investigate a crashed escape pod on Tatooine just prior to the Battle of Yavin consisted of sandtroopers. They had heavy weapons, survival gear, and shoulder pauldrons denoting rank.

Sideshow collectibles' fourth 1/6 scale Sandtrooper was originally teased in a video published on their site on May 17th, 2011. Two days later they published the preview page that revealed the figure would be offered separately from the Dewback it was featured with in the video. That being said, the figure and the beast were designed to accompany one another, and on May 14th, 2011, Sideshow published new galleries showing the two collectibles together before putting them up for individual pre-orders two days later. This Sandtrooper began shipping in the last week of November, 2011, and the Dewback followed two weeks later.


































Year: 2011
Original Retail: $134.99
Item Number: 100055
Exclusive Edition Size: TBA

What's In The Box?
- Stormtrooper Body
- Body Suit
- Neck cover
- Armour (13 pieces)
- Boots
- 2x Sets of Hands
- 2x Pauldrons
- 4x Pouches
- BlasTech E-11 Blaster
- BlasTech DLT-19 Heavy Blaster Rifle
- BlasTech T-21 Light Repeating Blaster
- RT-97C Heavy Blaster Rifle
- Back Pack (4 pieces)
- Sand Base for Display Stand
- Star Wars Display Stand


Photography & Text by D. Martin Myatt