STORMTROOPER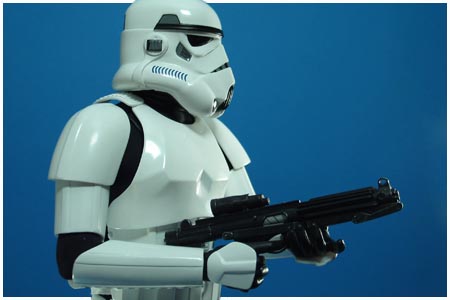 Premium Format Figure
Sideshow Collectibles announced their Stormtrooper Premium Format Figure on May 19th, 2011 through a preview page on their site. They fully revealed the statue on May 24th, and opened the pre-order two days later. The statue began shipping in January, 2012, making it the first 1/4 scale of the year. That, however, wasn't the only thing that made this statue a first. Unlike the twenty five statues (Twenty seven if you count the SDCC exclusive Luke and Rebel Hero Han) that came before it, the Stormtrooper doesn't have an edition size. There is a spot on the box and on the base for numbers, but none are present.

Product Information
Year:
2012
Original Retail:
$299.99
Item Number:
7180
Edition Size:
Limited Edition (no official number released)
What's In The Box?
Body
Helmet
Right Hand Holding Blaster
Left Hand
Display Base
Controversy:
The initial release of this statue was very poorly packaged. The base was packed outside of the art box, and the styrofoam wasn't secured well letting pieces move freely. In addition, the statue was protected with paper and plastic covers. Sideshow has not commented publicly about this yet, but we expect this issue to be addressed.
Photography & Text by D. Martin Myatt