GENERAL GRIEVOUS


Source: (Revenge of the Sith)

Year: 2006

Number: 7126

Assortment:
1:4 Scale Figures

Retail: $450.00

Dimensions:
25" H x 18" W x 18" W
(with Lightsabers)

Limited Edition No.:
100 of 2,500

Weapons and Accessories:
4 Lightsabers

Base

SIDESHOW EXCLUSIVE -
Fabric Cape with Clasp


Comments: The Galactic Republic is left in shambles as the debilitated systems of the galaxy are fooled into merging their resources with the corporate sectors. A powerful new Confederacy of Independent Systems emerges from the aftermath and forms a droid army of incomprehensible size, lead by a brilliant yet twisted military strategist. The by-product of the developers within the Confederacy, a cyborg amalgamation powered by his killer instincts, his cunning in battle and hate for the Jedi Republic, the evil General Grevious orchestrates a dominant battle for supremacy over the Clone Wars and takes the battle directly to the forefront of the Republic and the remaining Jedi that protect it.

Points of Interest:

The 1/4-scale Premium Format General Grievous Figure was meticulously sculpted to capture every detail of Grievous' techno-organic body, from the organs captured in his clear green chest cavity to the marbled surface of his armor.
The figure itself is a composite of metal, plastic, and polystone, engineered to provide the optimum stability and durability. The detailed paint application utilizes elaborate marbling and metallic techniques that breathe life into what little is left of his organic being. Each of the General's four robotic limbs wields a Jedi lightsaber, each a trophy from his fallen prey. Included is an environmental display stand with edition information on the base bottom.
Photography by D. Martin Myatt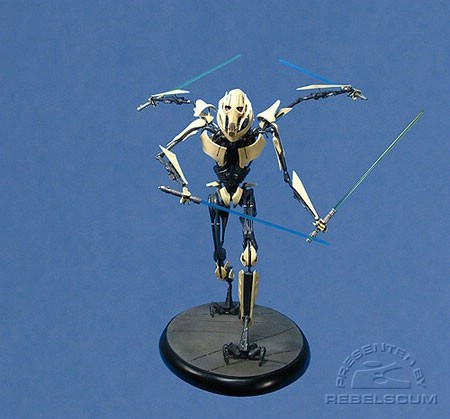 Roll over image above to take Grievous for a spin!!

Back To Sideshow Collectibles