DARK SIDE MARAUDER


Source:Expanded Universe:
(Role Playing Game)

Year: 2005

Number: 35/60

Rarity: Uncommon

Cost: 22

Hit Points: 90

Defense: 18

Attack: +10

Damage: 20

Special Abilities: Force Powers:
Comments: This brutal warrior bends the Force to his own violent purposes.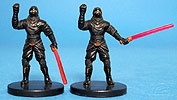 Points of Interest:
Because the clear lightsaber and left forearm is a separate piece, Dark Side Marauder has been found in two different poses. It's only a production error, but it makes for a unique character for armies.

Back To Universe