SANDTROOPER ON DEWBACK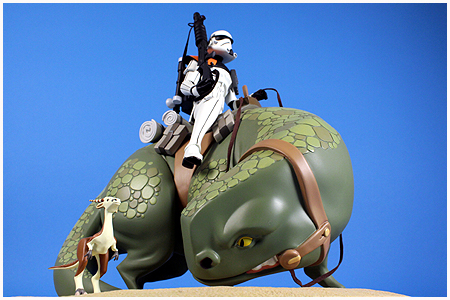 Limited Edition Maquette
The Classic Animated Maquette series gets a very welcomed addition with the inclusion of Sandtrooper On Dewback. This is one of the largest and heaviest pieces to be created in this line.

Product Information
Manufacturer:
Gentle Giant
Collection:
Animated Maquette
Source:
Star Wars: A New Hope
Year:
2013
First Revealed:
San Diego Comic-Con 2012
Pre-Order Date:
November 2012
Ship Date:
August 2013
Original Retail:
$399.00
Edition Size:
375 Pieces
Item Number:
80193
UPC Number:
8 71810 00974 9
What's In The Box?
Sandtrooper
T-21 light repeating blaster (with right hand)
Dewback (with reins & left hand)
Scurrier
Certificate of Authenticity
Points Of Interest
The base is 13 3/4" across, the entire maquette stands 13" tall and weighs 15 pounds, 6 ounces
This is the first high-end collectible to feature the species called Scurrier, a rodent created just for the Special Edition of A New Hope
The left hand is magnetic and sits firmly in the wrist holding the reins
Text, Photography & Page by Chris Wyman
comments powered by

Disqus