SCOUT TROOPER (EWOK ATTACK)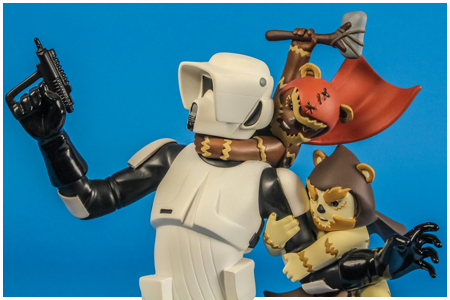 Limited Edition Animated Maquette
A comedic take on the furry devils that are the Ewoks as they attack a lone and sinister Scout Trooper during the Battle of Endor. Gentle Giantís Star Wars Animated line featuring classic characters and moments from the Original Trilogy spotlights the 30th Anniversary of Return of the Jedi with this maquette.

Product Information
Manufacturer:
Gentle Giant
Collection:
Animated Maquette
Source:
Star Wars: Return Of The Jedi
Year:
2013
First Revealed:
San Diego Comic Con 2012
Pre-Order Date:
September 2012
Ship Date:
March 2013
Original Retail:
$99.99
Edition Size:
1,000 Pieces
Item Number:
80238
UPC Number:
8 71810 00958 9
What's In The Box?
Scout Trooper (Ewok Attack) Star Wars Animated Limited Edition Maquette
Certificate of Authenticity
Points Of Interest
This is a solid piece with no accessories
Other than the single Wicket W. Warwick maquette, this is the only Star Wars Animated offering to feature a Scout Trooper or Ewoks
Initially solicited as an EntertainmentEarth.com exclusive, Gentle Giant would later offer this piece to Premier Guild Members via their website
The date stamp on the bottom of the base reads 2012, but the product was actually released in March of 2013
Text & Photography by Chris Wyman
Page Built by Adam Lamping
comments powered by

Disqus