STAR TOTS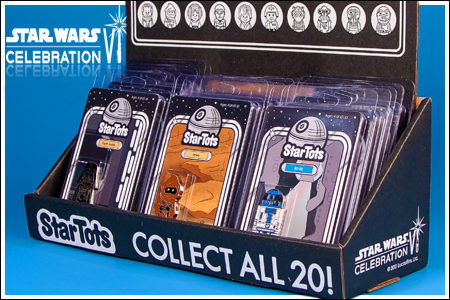 Celebration VI Collecting Track Exclusive Giveaways
For their Celebration VI panels, the Collecting Track organizers developed the ultimate giveaway premium. Based on the designs of
Kenner's proposed pre-school line of Star Wars toys
originally focused on a 1978-1979 release, the Star Tots diecast metal with enamel colouring figure collection consisted of 20 two-dimensional character figural tokens in resealable clamshells with individualized card backs that paid very close attention to all the elements we loved most about Kenner's original packaging design. For collectors aiming to collect them all, the group made available a special collectors display box that was designed after the original Kenner point of purchase store displays for their 3 3/4" action figure collection. To obtain all twenty pieces in the collection, attendees of the 2012
Star Wars
convention had to brave the crowds at Orlando's Orange County Convention Center and attend all twenty panels.
Each diecast metal figure saw a giveaway production limited to 350 pieces each.

Product Information
Manufacturer:
Celebration VI Collecting Track
Year:
2012
Original Retail:
Free
Special thanks to Chris Georgoulias for making this Photo Archive entry possible.
Text & Photography by D. Martin Myatt