SUPREME LEADER SNOKE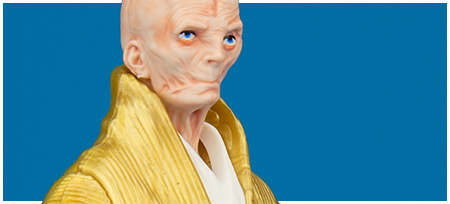 Force Link 2.0 Action Figure
The Supreme Leader Snoke 3.75-inch action figure featured on this page was part of the second assortment of single carded figures in Hasbro's Solo - Star Wars Universe Force Link 2.0 collection. It is a Force Link 2.0 rerelease of the figure originally offered with the BB-8 2 In 1 Mega Playset from 2017. The assortment also included the debut release of the Princess Leia Organa (Hoth) and Moloch figure along with the first single carded release of The Last Jedi masked Kylo Ren.

Product Information
Manufacturer:
Hasbro
Source:
The Last Jedi
Year:
2018
Original Retail Price:
$8.99
Assortment Number:
E1679/E0323
SKU:
6 30509 65734 6
What's In The Box?
Supreme Leader Snoke Action Figure
Is It The Same As Past Releases?
Beyond the colour of the Force Link logo under the figure's foot, this figure appears to be nothing more than a slight repaint of the figure included in 2017's BB-8 2 In 1 Mega Playset
Photography & Text by D. Martin Myatt
Page built by Adam Lamping
comments powered by

Disqus