PADMÉ AMIDALA
(Naboo Senator)


Source: Attack of the Clones

Collection: 8

Year: 2007

Number: 30-56

Assortment: Basic Figures

Retail: $6.63

Assortment Number: 87458/87500

UPC Number: 6 53569 25701 1

Weapons and Accessories:
Drinking Glass
Shawl
Scarf
Collector Coin
Species: Human
Status: Senator of Naboo
Weapon of Choice: Royal Pistol
Characteristic: In love with Anakin
Comments: After Padmé's life is threatened, she is placed under the protection of the Jedi Knights to ensure her safety. Anakin escorts Padmé back to her homeworld of Naboo, where the two rekindle their friendship -- and begin to fall in love. Padmé is delighted by Anakin's playful use of the Force during a quiet meal they share together.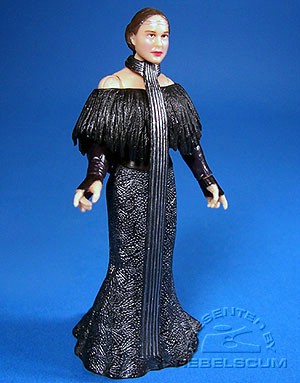 Roll over the photo above to watch Padmé change!

Points of Interest:
This Padmé Amidala figure is all-new.
Photography by Dan Curto
Also included with this figure is a folding pamphlet that shows other toys in The 30th Anniversary Collection.

Back To Basic Figures