CONCEPT REBEL TROOPER
(McQuarrie Signature Series)


Source:
Expanded Universe:
(Concept for A New Hope)

Collection: 8

Year: 2007

Number: 30-60

Assortment: Basic Figures

Retail: $6.63

Assortment Number: 87457/87500

UPC Number: 6 53569 25705 9

Weapons and Accessories:
Helmet
Neck Guard
Chest Armor
Blaster Pistol
Collector Coin
Artist Profile: The vivid imagination of conceptual artist Ralph McQuarrie brought to life the characters and worlds envisioned by George Lucas. McQuarrie's paintings and drawings were instrumental in the push to bring Lucas's saga to the big screen, giving shape and form to a multitude of fantastic individuals, creatures, planets and technology encompassed in this epic tale. Developed in collaboration with McQuarrie himself, this remarkable action figure series pays tribute to the man whose art defined some of the most memorable characters in film history.

Comments: Ralph McQuarrie's sketches of Rebel troopers show the distinct headgear and simple uniforms that articulate the lean, focused intensity of the Rebel Alliance forces. In his drawings, McQuarrie has captured the Rebels' unity of purpose and determined independence that characterize the Alliance's proud fighters.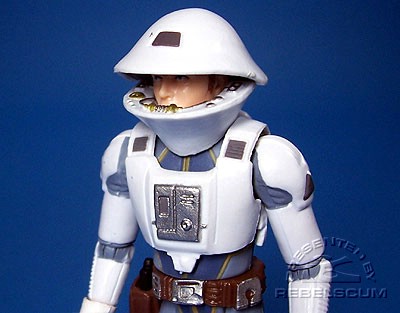 Roll over the photo above to remove the Rebel armor!

Points of Interest:
This design for the Rebel Trooper was the insipration for the Rebel Fleet Trooper.
Photography by Dan Curto
Also included with this figure is a folding pamphlet that shows other toys in The 30th Anniversary Collection.

Back To Basic Figures