CONCEPT R2-D2 & C-3PO
(McQuarrie Signature Series)


Source: Expanded Universe -
(Concept for A New Hope)

Year: 2007

Number: N/A

Assortment:
Exclusive Figures

Retail: $20.00

Assortment Number: 87385

UPC Number: 6 53569 24819 4

Weapons and Accessories:
Clamshell Case
Celebration IV Insert
Collector Coin
Artist Profile: The vivid imagination of conceptual artist Ralph McQuarrie brought to life the characters and worlds envisioned by George Lucas. McQuarrie's paintings and drawings were instrumental in the push to bring Lucas's saga to the big screen, giving shape and form to a multitude of fantastic individuals, creatures, planets and technology encompassed in this epic tale. Developed in collaboration with McQuarrie himself, this remarkable action figure series pays tribute to the man whose art defined some of the most memorable characters in film history.

Comments:

Ralph McQuarrie was commissioned by George Lucas to create several paintings. This scene depicts R2-D2 and C-3PO in a desert landscape. Even in this early rendering, Threepio already has a somewhat startled look, and Artoo reveals traces of his spunky nature.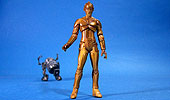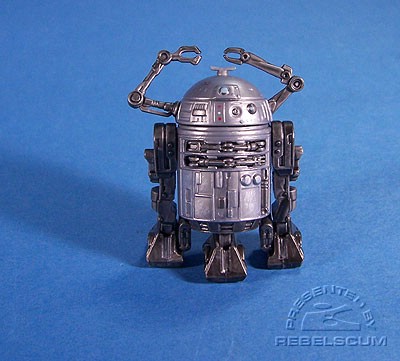 Roll over the picture above to watch R2-D2 in Action!

Points of Interest:
There is a special Celebration IV insert added into the clamshell. One one side it has a full painting of the movie postere, and on the other side it has text of Celebration IV:
"Welcome to Star Wars Celebration IV...
...a gethering that marks the 30th anniversary of the epic space fantasy cherished by millions of fans all over the world. Filled with fun, adventure, imagination, and sheer wonder, Star Wars will continue to captivate future generations with a timeless story of the forces of good triumphing over the powers of the dark side. It is fitting that we commemorate this occasion with the figures in your hands, the amazing Ralph McQuarrie original concepts of the droids R2-D2 and C-3PO, who are along for the entire incredible journey.
May the Force be with you...always!
The cardback reveals there will be 12 figures in the 2007 McQuarrie Signature Series.
Photography by Dan Curto

Back To Exclusive Figures