STAR WARS EVOLUTIONS
(The Sith)


Source: Star Wars

Year: 2008

Assortment: Evolutions

Retail: $19.99

Assortment Number: 87750/87480

UPC Number: 6 53569 30311 4

Weapons and Accessories:
Darth Maul
(The Sith Return):


Cloak
Lightsaber
Scanners
Sith Probe Droid
Support Stand


Count Dooku
(The Clone Wars):

Lightsaber
Soft Goods Cape
Soft Goods Skirt


Emperor Palpatine
(The Republic Falls):

Soft Goods Cloak
Soft Goods Skirt
Clasp
Cane
Lightsaber
Normal Hands
Force Lightning Hands
Comments: After thousands of years, the Sith reveal themselves to the Jedi. Witness their evolution with these Sith figures! Darth Maul attacks the Jedi, revealing that the Sith are still a threat to the galaxy. Then Count Dooku, a former Jedi, comes out of hiding as a Sith Lord to attack the Republic. Finally, the Emperor, who should be fighting to save the Republic, is revealed as the most powerful and menacing Sith of all!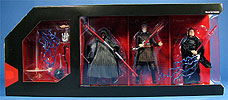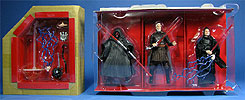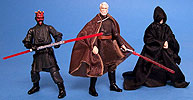 DARTH MAUL
(The Sith Return)





























COUNT DOOKU
(The Clone Wars)






















EMPEROR PALPATINE
(The Republic Falls)



























Points of Interest:
The Sith Evolutions is a repack of 2005's The Sith Evolutions set.
Photography by Dan Curto

Back To Evolutions