YODA


Source:
Attack of the Clones

Year: 2007

Assortment: Saga Legends

Retail: $5.99

Assortment Number: 87419/85770

UPC Number: 6 53569 24844 6

Weapons and Accessories:
Lightsaber
Jedi Cloak
Kashyyyk Cannon
Projectile
Episode II Collector Coin
Species: Unknown, as is his homeworld
Status: A wise and highly skilled Jedi Master
Weapon of Choice: Lightsaber and the Force
Characteristic: Has lived for centuries
Comments: The wise Jedi Master Yoda leads the Republic's clone army into battle on the Wookiee world of Kashyyyk. He is assisted in this fateful mission by mighty Wookiee warriors Chewbacca and Tarfful.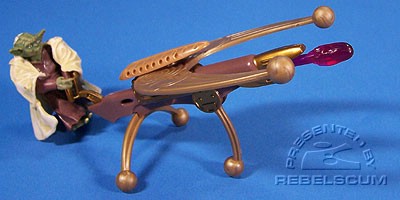 Roll over the photo above to watch Yoda fire his cannon!
Points of Interest:
Yoda is a repack of 2005's ROTS Yoda III-03.
The cardback describes a scene from Episode III, although the coin is from Episode II.
Photography by Dan Curto

Back To Saga Legends