STAR WARS EVOLUTIONS
(The Sith Legacy)


Source: Star Wars

Year: 2008

Assortment: Evolutions

Retail: $19.99

Assortment Number: 87564/87480

UPC Number: 6 53569 28225 9

Weapons and Accessories:
Darth Bane
(The Old Republic):


Orbalisk Chest Armor
Orbalisk Mask
Orbalisk Gauntlets
Cape
Lightsaber


Darth Nihilus
(Knights of the Old Republic):

Cape
Hood
Lightsaber


Darth Maul
(The Phantom Menace):

Lightsaber



Comments: The menacing Sith emerge again and again through the centuries, teaching each generation their dark secrets. A thousand years before the Battle of Yavin, Darth Bane brings the Sith Order back from near extinction in his quest to reclaim their glory. His legacy is carried on by Darth Nihilus, who blights whole worlds in his desire to destroy the Jedi. Darth Maul serves a power-hungry Sith Lord who plots the elimination of the Jedi.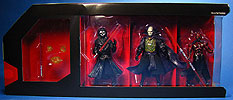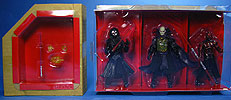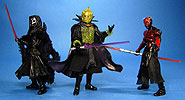 DARTH BANE
(The Old Republic)























DARTH NIHILUS
(Knights of the Old Republic)




























DARTH MAUL
(The Phantom Menace)












Points of Interest:
All figures in The Sith Legacy are new.
Photography by Dan Curto

Back To Evolutions