Star Wars: Episode III - Revenge of the Sith
COMMEMORATIVE TIN COLLECTION
(Clone Commander Cody | Anakin Skywalker | General Grievous | Clone Pilot)


Source:
Revenge of the Sith

Year: 2007
(K-Mart Exclusive)

Assortment: Commemorative Tin Collections

Retail: $35.19

Assortment Number: 87681/87154

UPC Number: 6 53569 29064 3

Weapons and Accessories:
DC-15 Rifle
2 DC-15 Blasters
Jet Backpack
Helmet
Lightsaber Hand
Normal Hand
Lightsaber Hilt
Lightsaber
Electropole
Droid Blaster
Collector Tin
2 Card Hooks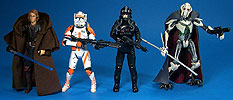 CLONE COMMANDER CODY
Species: HUman
Status: Clone
Weapon of Choice: Blaster
Comments: Clone Commander Cody serves in the Clone Wars, often under the command of Obi-Wan Kenobi. He has been specially trained to take on a leadership role requiring more independence.

Clone Commander Cody is a repack of 2006's TSC Clone Commander Cody.


ANAKIN SKYWALKER
Species: Human
Status: Jedi Knight
Weapon of Choice: Lightsaber
Comments: Anakin is appointed by Palaptine to be the Chancellor's personal representative on the Jedi Council. The Council, disturbed by this action, allows Anakin membership but refuses to make him a Master.

Anakin Skywalker is a repack of 2006's TSC Anakin Skywalker.


GENERAL GRIEVOUS
Species: kaleesh
Status: General
Weapon of Choice: Lightsabers
Comments: Grievous is the leader of the Confederacy's droid army. He is a brilliant strategist and has been taught how to duel with a lightsaber. He is a cyborg warrior built and trained for battle.

General Grievous is a repack of 2006's TSC General Grievous.


CLONE PILOT
Species: Human
Status: Clone
Weapon of Choice: Blaster
Comments: From the ranks of the clone army, some troopers are selected for specialized training to become pilots. During the Clone Wars, they fly Republic attack gunships, ARC-170 starfighters, and V-wing fighters.

Clone Pilot is a repack of 2005's ROTS Clone (Shadow) Pilot.




Points of Interest:
The tin is a repack of the tin from 2006's TAC Episode III Commemorative Tin Collection.
Photography by Dan Curto

Back To Multipacks