Star Wars: Episode VI - Return of the Jedi
COMMEMORATIVE TIN COLLECTION
(Darth Vader | R5-J2 | Biker Scout | Death Star Gunner)


Source:
Return of the Jedi

Year: 2007
(K-Mart Exclusive)

Assortment: Commemorative Tin Collections

Retail: $35.19

Assortment Number: 87683/87154

UPC Number: 6 53569 29066 7

Weapons and Accessories:
Lightsaber
Lightning Effect
Antenna
Scout Blaster
Helmet
Chest Armor
BlasTech E-11 Blaster Pistol
Collector Tin
2 Card Hooks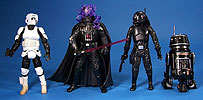 DARTH VADER
Species: Human
Status: Sith Lord
Weapon of Choice: Lightsaber
Comments: Vader brings his son, Luke, to the Emperor for the purpose of turning the yougn Jedi to the dark side. But Vader cannot watch Luke being tortured and turns on the Emperor to save his son.

Darth Vader is a repack of 2006's TSC Darth Vader.


R5-J2
Model: Astromech
Status: Empire
Instrument of Choice: Tool Arms
Comments: R5-J2 is an astromech droid assigned to the second Death Star being built above Endor. The droid performs his duties unaware that his service will soon end abruptly.

R5-J2 is a repack of 2006's TSC R5-J2.


BIKER SCOUT
Species: Human
Status: Stormtrooper
Weapon of Choice: Blaster
Comments: Biker scouts ride Imperial speeder bikes while patroling the moon of Endor. They are guarding the shield generator that is protecting the second Death Star during its construction.

Biker Scout is a repack of 2006's VTSC Biker Scout.


DEATH STAR GUNNER
Species: Human
Status: Imperial Gunner
Weapon of Choice: Superlaser
Comments: Imperial gunners aboard the Death Star fire powerful laser cannons at attacking Rebel ships. Their helmets cover their faces to protect them from dangerous flashback from the weaspons.

Death Star Gunner is a repack of 2006's TSC Death Star Gunner.




Points of Interest:
The tin is a repack of the tin from 2006's TAC Episode VI Commemorative Tin Collection.
Photography by Dan Curto

Back To Multipacks