ANAKIN'S JEDI STARFIGHTER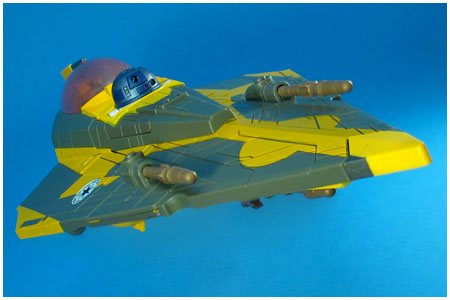 The Clone Wars Class II Vehicles
The fourth and final wave of vehicles that featured the "Shadows of the Dark Side" packaging, comprised a single brand new vehicle, the Mandalorian Assault Transport, alongside repacks of Anakin Skywalker's Jedi Starfighter and the Republic V-19 Torrent Starfighter, as well as the Separatist Droid Gunship from an earlier wave, and was scheduled to hit shelves September 2011.

Product Information
Manufacturer:
Hasbro
Year:
2011
Original Retail:
$29.99
Item Number:
94808
UPC Number:
6 53569 50389 7
What's In The Box?
Front section
Rear section
Cockpit Canopy
Droid Canopy
2x Wing-Mounted Cannon Missiles
1x Belly Cannon Missile
Instructions
About This figure
This is the second time that Anakin's Jedi Starfighter has been released, having originally been available in the red packaging for The Legacy Collection.
The fighter separates into 2 vehicles
Droid socket for R2-D2!
Text by Adam Lamping

Photography by D. Martin Myatt