REPUBLIC ATTACK SHUTTLE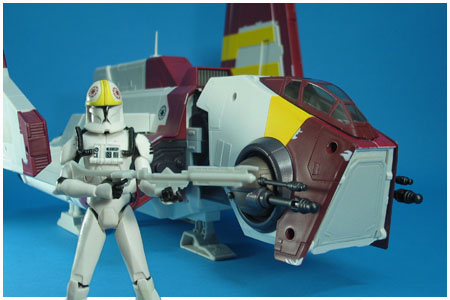 The Clone Wars
Hasbro's Republic Attack Shuttle was officially revealed at the 2011 International Toy Fair. This vehicle kept the tradition of producing a new large vehicle every year, and marks the first large vehicle to exist solely in
The Clone Wars
, and not based on something you've seen in the six feature films.
The Republic Attack Shuttle doubles as a interactive play environment when all its pieces are folded out. It features many moving pieces and action features as well as sounds and a pack in clone Pilot action figure.

Product Information
Year:
2011
Original Retail:
$79.99
Item Number:
28533
UPC Number:
6 53569 60014 5
What's In The Box?
Main Ship Body
Main Ship Left & Right Wings with Wall Panels
Main Ship Ramp (2 pieces)
Main Shuttle Body
Main Ship Top Cover
Main Ship Spring Loaded Top Cannon
Main Ship Left & Right Side Covers
2x Main Ship Wing Guns
2x Main Ship Back Landing Gears
Main Ship Front Landing Gear
2x Spring loaded Pop Up Cannons
4x Removable Foot Stands
5x Missiles
Antenna
Shuttle Canopy
Shuttle Ramp
2x Shuttle Wings
Shuttle top Gun
Clone Pilot Action figure
DC-15 Clone Rifle (Ship White Colour)
Silver Display Stands
Galactic Battle Game Card
Sticker Sheet
Instruction Sheet
About This Vehicle
This is the first release of the Republic Attack Shuttle and it was a completely new vehicle with all new parts.
The Clone Pilot included with this vehicle uses the Clone Commander Stone body from The Clone Wars 2009 collection with an all new head.
Photography by D. Martin Myatt