REPUBLIC V-19 TORRENT STARFIGHTER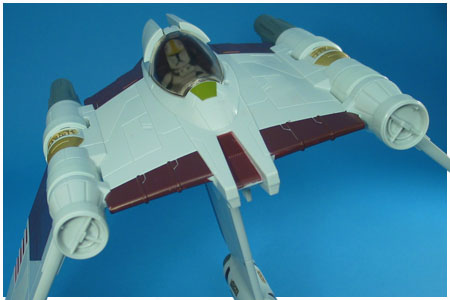 The Clone Wars Class II Vehicles
The fourth and final wave of vehicles that featured the "Shadows of the Dark Side" packaging, comprised a single brand new vehicle, the Mandalorian Assault Transport, alongside repacks of Anakin Skywalker's Jedi Starfighter and the Republic V-19 Torrent Starfighter, as well as the Separatist Droid Gunship from an earlier wave, and was scheduled to hit shelves September 2011.

Product Information
Manufacturer:
Hasbro
Year:
2011
Original Retail:
$29.99
Item Number:
19696
UPC Number:
6 53569 53161 6
What's In The Box?
Starfighter Body
Canopy
2x Rotating Side Airfoils
Center Airfoil
2x Projectiles
2x Thrusters
Instructions
About This figure
This is the third time that the Republic V-19 Torrent Starfighter has been released, having previously been available in both the blue and red packaging for The Legacy Collection.
Text by Adam Lamping

Photography by D. Martin Myatt