JAR JAR BINKS


Source: The Clone Wars
Year: 2009
Retail: $6.99
Assortment: Basic Figures
Series: 5 (2009) | 6 (2011)
Number:
24 (2009) | CW65 (2011)
Assortment Number:
87957/87638 (2009)
32850/94736 (2011)
UPC Number:
6 56569 37154 0 (2009)
Weapons and Accessories:
Scarf

"Bombad Jedi" Cloak

Galactic Battle Game Card

Game Die

Display Stand

Comments: It's up to Jar jar Binks to save the day when Padmé Amidala walks into a trap set by the Separatists on the planet Rodia. Donning a Jedi robe, Jar Jar hopes that the threat of dealing with a formidable "Jedi" will force Padmé's captors to release her.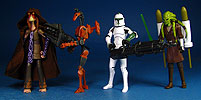 Points of Interest:
Jar Jar Binks is an all-new figure.

This figure was originally released in 2009, and has been re-released in 2011 with the "Galactic Battle Game" accessories.

Photography by Dan Curto

Back To Basic Figures