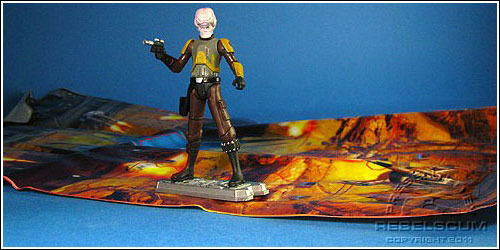 SERGEANT BRIC
(with Galactic Battle Mat)
Source:
The Clone Wars
Year:
2010 (Mailaway Figure Offer)
Assortment:
Exclusive Figures
Retail:
FREE*
Assortment Number:
25283/94736
UPC Number:
6 53569 54915 4
Weapons and Accessories:
• Blaster Pistol
• Galactic Battle Mat
• Galactic Battle Game Card
• Game Die
• Display Stand
Comments:
The bounty hunter trains clone cadets on Kamino. He is a tough and demanding drill sergeant. He expects his trainees to perform their combat exercises with perfection; anything less makes them failures in his eyes and not worthy to be part of the Clone Army.
Points of Interest:
•
Sgt. Bric
is an all-new figure.
• * This figure is available by filling out a redemption certificate and mailing it in with 5 UPC codes and $6.99 for shipping and handling. (see scans above)
• The Galactic Battle Mat is a portable playmat and carrying case that can store up to 20 figures and accessories in the interior pockets.
• The display battle stand included in this line is random: there are four different designs that spotlight different skills on the battle card.
• If the offer was sent in towards the end of the timeframe, a postcard was sent out stating the set was delayed until July 17, 2011.
• Photography by Dan Curto

Back To Exclusive Figures