TIE FIGHTER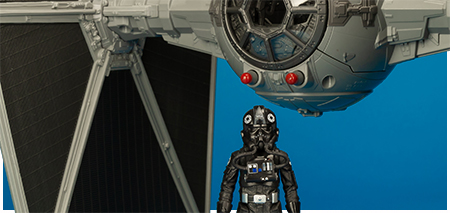 Solo - Star Wars Universe Vehicle
The standard starfighter of the Imperial Navy, the TIE Fighter roars through space propelled by by twin ion engines. Large hexagonal solar panels bracket the small, spherical cockpit, in which sits a skilled Imperial pilot ready to strike.
With images hitting the web in June 2018, the Solo - Star Wars Universe TIE Fighter featured on this page began hitting shelves in Canada the following July, and the U.S. in August. This version of the iconic Imperial starfighter is a unique release and comes packed with a retooled pilot based on the one packed with the Rogue One - Star Wars Universe TIE Striker.

Product Information
Manufacturer:
Hasbro
Source:
Solo: A Star Wars Story
Year:
2018
Original Retail Price:
$39.99
Assortment Number:
E0327
SKU:
6 30509 66634 8
What's In The Box?
TIE Fighter Vehicle (6 pieces)
TIE Fighter Pilot Action Figure
BlasTech E-11 Blaster Rifle
2x Missiles
Instruction Sheet
Sticker Sheet
Photography & Text by D. Martin Myatt
Page built by Adam Lamping
comments powered by

Disqus