LUKE SKYWALKER'S TAUNTAUN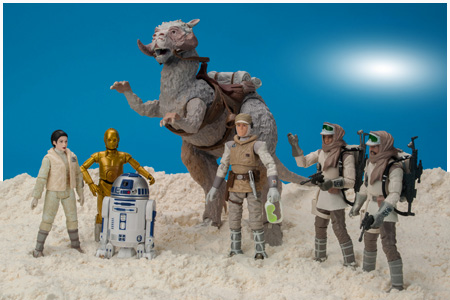 The Vintage Collection
Even though, when revealed at the
2011 San Diego Comic-Con
, both the Target exclusive Vintage Collection
Landspeeder
and Luke Skywalker's Tauntaun we marked at $16.99 each, they ended up costing collectors $24.99 each when they actually showed up in one month later.

Product Information
Manufacturer:
Hasbro
Year:
2011
Original Retail:
$24.99
Assortment Number:
33240/36664
UPC Number:
6 53569 66493 2
What's In The Box?
About This Creature
This version of the Luke Skywalker's Tauntaun debuted in 2011 and used the same parts as the Han Solo's Tauntaun in The Search For Luke Skywalker multipack that came out around the same time. Sculpturally, the only difference is the creature's head. As in The empire Strikes Back Luke's Tauntaun has one broken horn. Beyond that, this Tauntaun has a slightly different paint scheme and the saddle is also painted differently from the Han Solo's Tauntaun.
In January 2011, Target purchases the retail leases for the Canadian department store chain Zellers. Shortly after that, Zellers began stocking Target exclusive Star Wars toys. THe packaging, in most cases are identical, but don't have the "Only At Target" sticker applied. In some cases, a sticker with a different barcode is applied over the printed barcode. The Zellers version of this toy did ship with the original barcode.
Text by D. Martin Myatt
Photography by D. Martin Myatt & Rich Alot