OBI-WAN'S JEDI STARFIGHTER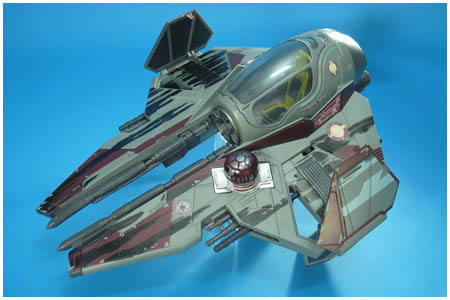 The Vintage Collection
Announced at Hasbro's presentation at the 2011 New York Comic-Con, the first non-Original Trilogy-era vehicles to be released in Kenner-style packaging consisted of two repaints, the
AT-AP (All Terrain Attack Pod)
originally released in the
30th Anniversary Collection
in 2008, and the Obi-Wan's Jedi Starfighter (which is actually a repaint of the
Anakin's Jedi Starfighter
from the 2005
Revenge of the Sith
line), and a virtual repack of the Republic V-19 Torrent Starfighter which was originally released in
The Clone Wars
collection in 2008. The V-19 also revealed for the first time
The Clone Wars
logo wrapped within the Star Wars banner, looking similar in style to that of
The Empire Strikes Back
logo.
Scheduled to be released on Hasbro's street date of January 30th, 2012, the vehicles, much like many other items due to be available at the same time, were first spotted in stores more than a week earlier, priced around the $30 mark.

Product Information
Year:
2012
Original Retail:
$29.99
Item Number:
38886
UPC Number:
6 53569 75007 9
What's In The Box?
Jedi Starfighter
Canopy
R4 Droid Plug
2x Missiles
Sticker Sheet
Instructions
About This Vehicle
The first of two Mark II Jedi Starfighters that Obi-Wan is seen piloting in Revenge of the Sith, this color scheme has been released a number of times previously.
This vehicle is a repaint of the 2005 Revenge Of The Jedi Anakin's Jedi Starfighter.
This time around however, much of the appeal is obviously in the Kenner-style packaging.
Text by Adam Lamping
Photography by D. Martin Myatt