Y-WING FIGHTER VEHICLE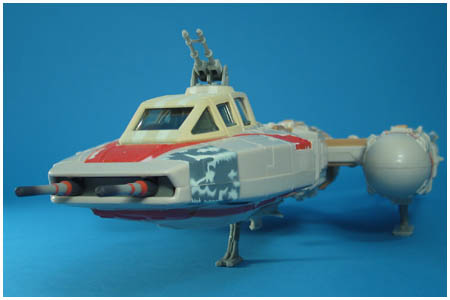 The Vintage Collection
Released in July 2011, the Toys "R" Us exclusive Y-Wing Fighter Vehicle was one of the first vehicles to be made available in The Vintage Collection.

Product Information
Manufacturer:
Hasbro
Year:
2011
Original Retail:
$39.99
Assortment Number:
33270
UPC Number:
6 53569 65033 1
What's In The Box?
Y-Wing (18 pieces)
Missile
Instruction Sheet
About This Vehicle
The Vintage Collection Y-Wing Fighter Vehicle is another stage in the very slow evolution of the Kenner Y-Wing Fighter from 1983, and for the first time since the original toy, you can fit an Astromech droid into the droid port. All versions released since 1999 have had a moulded droid behind the cockpit. This version is extremely well painted and doesn't require additional stickers. All the playability from the original toy are present in this version including a button activated dropping missile, a rotating top gun, and lever activated rear landing gears. Sadly, you take the good with the bad, as the struts at the 'wing' ends are still not securely fastened to the vehicle, and are quick to fall off if grabbed wrong.
This version also features a newly designed cockpit with a retractible 'targeting computer' and plastic plugs to cover over the two screw holes found on all other versions of the toy.
Text & Photography by D. Martin Myatt